May, 2005
now browsing by month
Sitcoms Inc.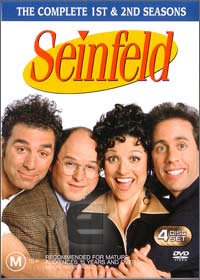 I have been following sitcoms for as long as I can remember, or at least when I got to the age where I could figure out why there was always some kind of audience laughing in the soundtrack. The earliest of these was Newhart, an early 80s series that I watched but probably got only a third of the laughs. Then there was 'Allo 'Allo, that I followed in the late 80s. I distinctly remember video taping every episode as it was screened on SBC, and even hoarded video compilations comprising episodes from the many years the show ran. Who could forget the Michelle the resistance leader's "Listen very carefully – I shall only say this once", Officer Crabtree's continual butchering of the English language (or French depending on your dramatic orientation), or Rene Artois' "You stupid woman!"It's interesting to think of how much I still enjoy sitcoms, and since coming to Perth, I've had the opportunity to catch up on many of the series that I missed. One great thing about television over here in Western Australia is the very large number of sitcom reruns. For more than the last 2 years, I've refreshed myself on Mad About You, Everybody Loves Raymond, Frasier, Cheers, and most recently, Seinfeld. I have to admit though – I didn't particularly enjoy Seinfeld initially. It was possibly something to do with the main protagonist's voice – which is on the whiny side.
However, I was at Blockbuster the other day after a long spell of staying away from renting DVDs to watch – funds had been limited – and I was looking up and down the video aisles trying to find a seventh title to complete the package. It was seven titles for AUD10.95 over a week long rental. So I found Seinfeld: The Complete 1st and 2nd Seasons. I thought – heck, I need just one more title and I can checkout the rest of these goodies; so I might as well give it a shot.
As I approached the counter, the store assistant beamed when she saw I'd chosen Seinfeld. I said laughingly that I'd never really like the series, but I'm picking it up just to complete the package. She remarked that "Yeah, I didn't really like the series myself initially. But it sort of grows on you. You'll love it – trust me." Nevertheless, I left the shop still feeling rather sceptical.
2 days after that, I finally popped in the disc into the player while taking a break from dissertation writing. And an hour and 2.5 episodes later, I was hooked! It's unexplainable – I still find Jerry Seinfeld's voice gyrating. But there is something just pleasantly spurious about the sitcom. It's not called "The show about nothing" for nothing – nothing serious ever goes on indeed. But perhaps it's Kramer's rubber-like antics and scams to get rich by the episode, or George's constantly trying to hook up with women with the purpose of getting laid, or Jerry's peculiar nuances of Superman that I just find endearing. But I am hooked enough to have watched every episode in season 1 and 2 at least 2-3 times now in the last fortnight. I am now, as the shop assistant prophesised, an addict who has fallen in love with the series!